June 16, 2022
Your Ultimate Checklist for Buying New Homes in Auburn, Alabama
Building a new construction home in Auburn is easier than you imagine. 
The thought of building a new home feels like a complicated process, but here at Harris Doyle Homes, we make it easy. You'll start your Auburn new home journey with Kristie Cotter, our Online Sales Consultant.  Kristie serves as an primary point of contact for new home buyers and prospects by promptly responding to questions and delivering a variety of information ranging from community information to floor plans and scheduling onsite tours. Her purpose is to keep the buying experience smooth for our customers and guarantee all their questions are answered and demands are met during the early phase of their home building experience. 
New Construction Homes in Auburn Make Excellent First Homes.
Contrary to popular belief, new construction homes are perfect for first-time buyers and not out of reach. Harris Doyle has featured listings and pre-sale floorplans in a variety of price ranges. As a buyer, if you choose to go the pre-sale route, it puts you in control of the lot, floorplan, and design selections in your new Auburn home. This is a huge perk for buying new and one not available if you were to purchase a resale home.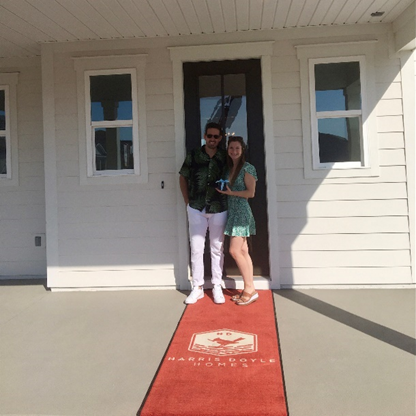 A New Home Sales Consultant will be available to help. 
When you determine a neighborhood and have the floorplans and lot in mind, Kristie will connect you with the on-site New Home Sales Consultant to start the process of neighborhood visits and completing your lot, floorplan, and design selections. Our agents have years of experience in new construction in the Auburn market and know their assigned Harris Doyle community in detail. 
Get Pre-Approved with Silverton Mortgage
There are six steps to the mortgage process: Pre-Approval, Submitting Initial Docs, Processing, Underwriting, Pre-Closing, and Closing. First and foremost, pre-approval is extremely important when deciding how much money you (the buyer) will be eligible to borrow. Harris Doyle has partnered with Silverton Mortgage, one of the nation's fastest growing financial companies, to make it simple for our buyers. Silverton's team of processors and underwriters work seven days a week, advise you on the home loan that fits your needs, and offer multiple types of loans. 
Start the Home Building Process
Now that your budget is set and Kristie has connected you with your New Homes Sales Consultant, the real fun begins! This is the time to decided which features are important and must-haves in your new home. How many bedrooms and bathrooms and where you want the lot to be in the new construction community.  Next up…choosing the ideal floorplan for your family's needs. Do you want an open concept, two stories, or an abundance of natural light? Discussing your wants with the agent will help determine which floorplan suits you best. 
Don't Forget Quick-Move-In Homes
Here at Harris Doyle, we have quick-move homes ready for new owners at all stages of the building process. These homes sit on highly desired lots throughout the new home communities, feature designer selections chosen by Harris Doyle's Design Team, and boast the best floorplans we offer. If you want a newly built construction home without the wait time, click here to see our homes that will be move-in-ready soon in the Auburn community. 
Personalizing Your New Home in Auburn with Design Selections
One of the largest perks of buying a new construction home is that your new home will have the most up-to date features throughout. The Harris Doyle design team keeps up with modern trends to guarantee we present the chance for your new home to have the most innovative elements. The Auburn design studio is ideal for choosing the perfect products and materials that fit your way of life, but it is also a fantastic place for ideas. This is where you can create looks for your exterior, kitchen, bathrooms, floors, lighting and much more. 
The Design Process Explained: 
Exterior Selections

 – Choose the brick and all your finishes to polish off the streetscape. 

Kitchen Selections

 – Select kitchen design collections from the hottest trends to timeless classics. 

Bathroom Selections

 – Pick out the collection for that dream bathroom you have always desired. 

Flooring Selections

 – Select the hardwoods and carpet to give your home a luxurious feel. 

Paint Selections

 – One of the simplest, yet creative ways to add dramatic effect to your home. 

Decorative Lighting

 – Choose from an array of designs from classic to trendy in lighting. 

Specialty Trim

 – Want a brick surround on your fireplace? A bench seat for your drop zone? We have an extensive collection of specialty trim items. 

Finalize your Design Options!! 
Check out Harris Doyle Homes Neighborhoods First
If you want to go the new construction home route, consider starting with Harris Doyle Homes. We are a leading residential developer and home builder in the Auburn area. We are recognized for our dynamic team that works thoroughly to provide the best customer experience. Our homes are designed and constructed to fit all lifestyles and customers, while making the journey to the closing table simple, exciting, and unique.