May 6, 2021
Ten Date Night Spots in Auburn
You've purchased your new home in Auburn and now it's time to celebrate with a date night! If you're new to Auburn, we've done the hard work for you and found ten perfect date night spots. Dining, shopping, and axe throwing are guaranteed to be a good time. We suggest trying out all ten...
The Depot
The Depot is known for the finest and freshest seafood in the Auburn area. Oysters, soft sell crab, and ahi tuna are some of the many seafood plates you can find on the menu. If this is not for you, chicken, prime ribeye, and burgers can also be ordered. Finish your dinner with a Goat's Milk Vanilla Crème Brulee to get the most out of your dining experience. Please keep in mind that the menu changes daily, making this date night spot different every time. Southern inspired pre-prohibition cocktails, award-winning wines, and craft beer are available to top off a great evening. Valet parking is offered, so this will not be a hassle. The history of The Depot is just as rich as the food. Passenger trains would stop here during the Civil War over 150 years ago making this a historical landmark.
Good Times Bowling 
Having a date night with your family is easy to do at Good Times. There are multiple escape rooms and arcade games if bowling is not for everyone in your group. Bowling here is a party with neon lights, video walls, and plush loungers. Take a break from throwing strikes and try out all the classic bar food! This is the perfect place to let the good times roll…
The Hound
If you are in the mood for an inventive take on American food, The Hound is for you. Start the night with Mama Sue's Pepper Jelly and the famous Bacon & Bourbon cocktail. Next, try a bison or venison burger if you are wanting something different. If not, check out the meatloaf, braised lamb shank, or Chucktown shrimp & grits paired with a classic side. The dessert menu is always changing, but you cannot go wrong with any of the options. The laid-back atmosphere of The Hound is perfect if you are trying to escape the hustle and bustle of downtown Auburn.
Live Oaks
If spending date night on a patio with an outdoor bar is for you, Live Oaks will be your new favorite spot in downtown Auburn. This rustic-modern restaurant offers American fare plus cocktails and draft beer. Get to dinner early for happy hour where you will find drink specials and half-priced appetizers. Chicken pad thai, taco burgers, and pan-seared grouper are just a few of the delicious entrees to chose from. To top it all off, dogs are welcome on the patio so your furry friend can tag along for date night.
Amsterdam
Amsterdam is a cozy café tucked away in downtown Auburn featuring seafood and southern-style food. It does not get more southern than the fried green tomato and pimento cheese appetizers, which are both delicious. Make sure you try the crab cake and avocado sandwich as it was voted "100 Dishes to Eat in Alabama Before You Die!" Do not forget to save room for dessert. The bourbon apple bread pudding, triple chocolate cake, and vanilla bean crème brulee are to die for!
Midtown Auburn
Shopping, dining, and entertainment can all be found at Midtown Auburn. Start the night browsing around Amour Boutique for the latest fashion trends. Walk across the street to Sword + Skillet, one of the best food trucks in Auburn. After eating dinner at a picnic table under twinkling lights, head over to Blade & Barrel.  Finish the night at Plaza Bar & Lounge enjoying live music, bar snacks, and refreshments.
Auburn Candle Company
There is nothing better than grabbing a glass of wine and watching your favorite show with a candlelit after a long week. Why purchase a candle when you can make one at Auburn Candle Company? You can create your own date night scent with multiple fragrances to choose from. Georgia peach and ice team, old books, and hot apple pie…just to name a few. Wax melts, room spray, and diffusers can also be customized to fit your aroma needs. If going out is not an option, Auburn Candle Company also offers at-home candle kits! Either way, your house will smell amazing after.
Bow and Arrow
Bow and Arrow can be described as a Texas-style smokehouse that meets Tex- Mex. Brisket, turkey, and pork are all on the menu with a long list of sides to pick from. Feeling Mexican food? Fajitas, tacos, and enchiladas are all great options. Do not skip Memaw's Éclair for dessert, it's life-changing.
Venditori's Italian Restaurant 
Craving Italian? Venditori's is the spot for you! The house salad and garlic rolls come with all entrees, so make sure you come hungry. Lasagna, alfredo, spaghetti, and ravioli are just some of the classic Italian favorites you can find on the menu. Seafood and personal pizzas are a great choice if you are staying away from pasta. There is also a gluten-free menu for a healthier option. With 10 dessert selections, there is something to satisfy everyone's sweet tooth. 
Country Club of Auburn
Swing by the Country Club of Auburn for dinner and a round of putt putt golf! Take advantage of the daily specials like all you can play before 5 PM and $5 frozen drinks. Pick a seat at the restaurant, main bar, or course-side bar. With dinner options such as salads, flatbreads, and pastas, there is something on the menu for everyone. Finish the night with a game of putt-putt at the 9-hole executive putting course.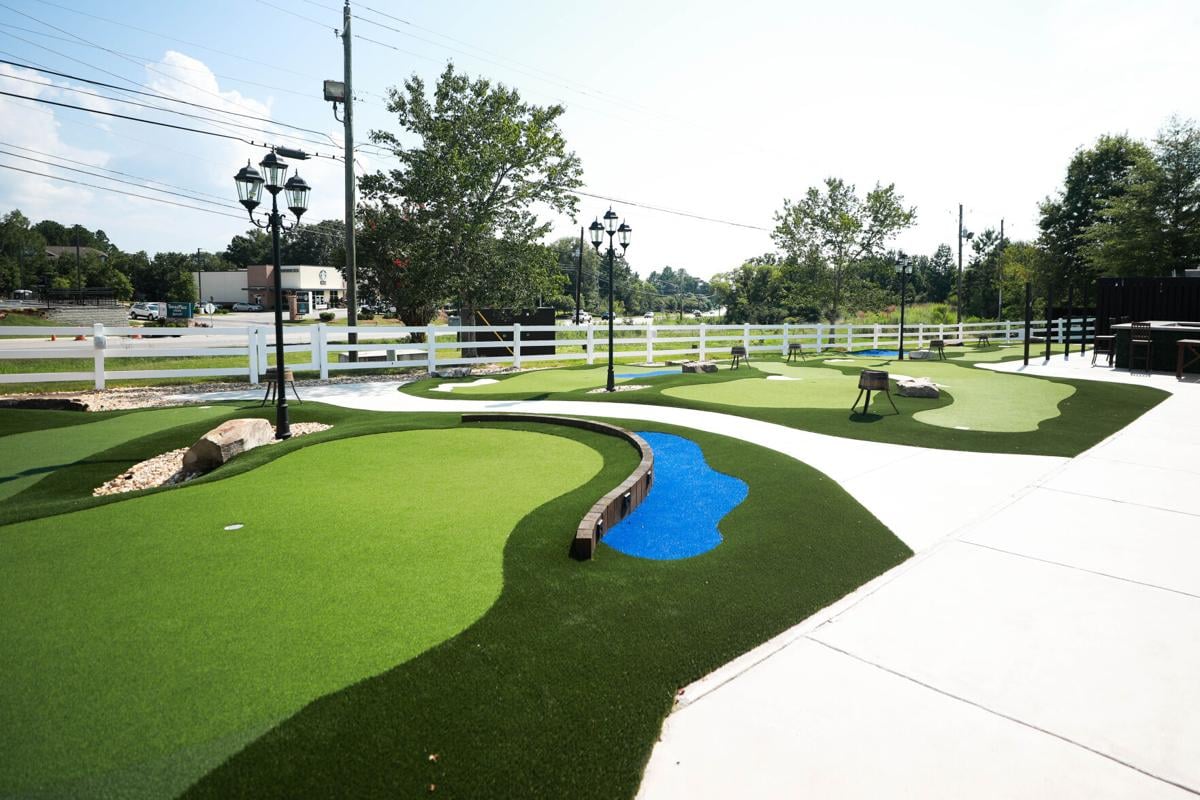 Auburn might be known for Auburn University, Auburn Tiger Football, and Toomer's lemonade, but now it will be at the top of your mind for a date night location. Enjoy delicious food, bowl a strike, or swing a golf club all within a few miles of your new home. It doesn't get much better than that! Check out the Harris Doyle communities near all the action here!